City of Parsons Welcomes You
Parsons Municipal Building
Located on the Banks of the Beautiful Tennessee River about half way between Memphis & Nashville.
Just 15 minutes South of I-40 at exit 126 on Hwy 641 South.
---
City of Parsons Founder's Day Banquet Invitation


The City of Parsons will host a Founder's Day Program and Banquet on Saturday, June 27th at the Parsons Municipal Building and Parsons Centre. A Founder's Day Celebration booklet will be available as a keepsake. The booklet will contain historical information pertinent to the founding of the town. The museum will also be open to the public.

The Third Annual Founder's Day Banquet will be held at 6:30 p.m. The banquet program will honor three citizens whose lives have exhibited leadership and service to others. Inductees for the City of Parsons Wall of Achievement include the following: Edith Taylor will be honored for her career in education, Arthur Tolley will be honored for his contributions to the Town of Parsons while serving as Mayor during President Roosevelt's "New Deal" era. Robert Bibbs will be honored for his contributions to education with his tenure on the School Board. Edith Taylor and Arthur Tolley will be honored posthumously.

In addition, the banquet program will feature a short video recalling the 20's and 30's era, featuring an interview by Mr Martin Fisher of Mr. Hobart Townsend in 1992. The interview video will include historical photos of that era. The Founder's Day Banquet held a year ago was a huge success as the council and community rooms were filled to capacity. Seating for this year's banquet is expected to again be limited, and interested businesses, families, and individuals are asked to reserve seating in advance. Tables can be reserved for $150.00 and individual seating is $25.00.

---
FIX UP FOR THE 4th

KNOW OF A BEAUTIFULLY LANDSCAPED HOME?

NOMINATE IT!!



The City of Parsons City Beautiful Committee wants to recognize Parsons area yards for their beauty and creativity.

The following awards will be announced as follows:

* Most Beautiful Yard

* Most Creative Yard

* Most Improved Yard

If you know of a home in the Parsons area that has put an extra bit of TLC into their outward appearance, nominate them for a City of Parsons Award!

You may submit nominations by calling City of Parsons, 731-847-6358, Monday through Friday, 8am to 4:30pm. Nominations will be received through the 6th of July, and judged the following week.

Winners will appreciate the recognition, and photos of their home will be posted on the City website as another beautiful example of our City of Parsons.


---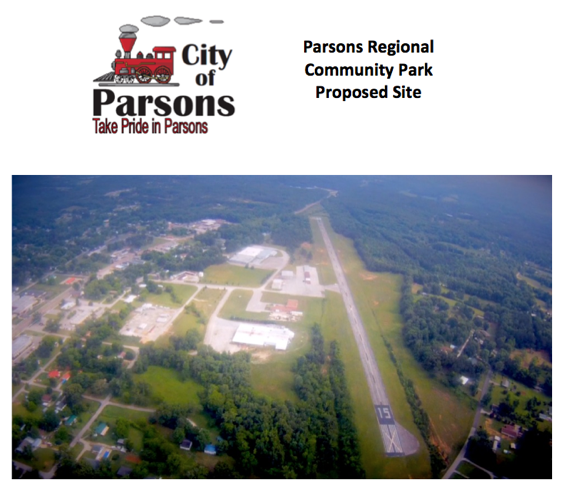 • Click
here
for a promotional video on the proposed Parsons Community Park.
• Click
here
for more information on the proposed Parsons Community Park.
The City of Parsons has been awarded a Land & Parks Recreation Fund (LPRF) grant for Phase I
designed to re-purpose approximately ten acres of the old Scott-Gibson Airport for recreation.
---
We Take Pride in Parsons!